Shufflesome sells stickers to decorate your iPod Shuffle (v1 and v2). Most of them are quite nice. We're considering getting a fish sticker for our iPod.... The stickers are made by 47 artists.
The stickers also exists for the third generation nano. Let's hope the artists are going to work on sticker for the new 4th generation nanos...
For more information, check Shufflesome web site.
Apple has posted a video stream of yesterday's keynote. The keynote is also available as a podcast on iTunes.
Apple introduced quite a few products today during their "Let's Rock" special event:
As expected, they revealed iTunes 8. The new version, available today for download, includes
Support for High Definition TV shows ($2.99 for High Definition episodes and $1.99 for Standard Definition episodes)
Genius playlists: automatically find songs similar to the ones you own
New grid view
New visualizer
Apple
 also introduced new iPod nanos :
Thinnest iPod ever that comes in 9 Colors: silver, purple, blue, green, yellow, orange, red, pink, black
Accelerometer
Shake iPod to shuffle
Genius playlists
Aluminum with curved glass
$149 for 8GB. $199 for 16GB.
Apple
 introduced a new iPod Classic (only in 120 GB) and new iPod Touch with the following features:
2.1 Firmware (see below)
Built-in speaker, volume controls (similar to the iPhone)
Genius playlist
Nike+iPod support
Better battery (36 hours when playing music and 6 hours when playing videos)
new prices : $229 for 8GB, $299 for 16GB and $399 for 32GB
Today iPod shuffle also got new colors and a price drop.
And finally, iPhone and iPod Touch OS 2.1 will also be available this friday:
better battery life and bug fixes
fewer call drops
backups are going to be faster (that will be great...)
no App crashes (finally!)
GarageBuy 1.5 is a free application for OS X that helps you find and purchase items on eBay. The Mac software comes with a little brother for iPhone. Both are free.
The main features of GarageBuy are as follows:
GarageBuyTouch For Your iPhone
Support For Leopard
Place Bids Directly Inside GarageBuy
Purchase Items Directly Inside GarageBuy
Gallery List View
Search For Auctions By Seller
Blacklist Buyers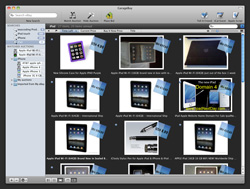 We've been looking for the cheapest plan that can be used with the iPhone and we might have found it in France. It is not the kind of regular plan that you get when you buy an iPhone (you will have to pay a minimum of 49 euros a month if you get one of these).  What we discovered is that you can have the following for 19 euros (or even less in some cases):
- a plan without any minutes included for 7 euros (you would have to pay 0,45 cents for each minute). This plan comes with caller id, a free answering machine and double call. However it does not offer visual voice mail.
- an option that allows you to call 3 phone numbers for an hour per month, for 3 euros
- an unlimited internet access option for 9 euros (this option was actually 4.5 euros for four months for people who subscribed before the end of august). It includes unlimited Edge/3G data and 1 hour of Wifi connexion to one of the Orange hotspots.
If you're only need to receive some calls and don't intend on calling anybody, the bill can even be as low as 16 euros (or even 11.5 euros for the first four months). It is not the top of the line plan, but it costs almost a fourth of the regular low-end iPhone plan.