SlothMedia, LLC today announced version 1.3 of KosmicMathHD-Family and Lite editions are now available for the Apple iPad. Along with many enhancements, this release expands the Kosmic Math product suite to include 5 new single player, single grade offerings written specifically for the Apple iPad: KosmicMath Pre-K HD, KosmicMath 1st Grade HD, KosmicMath 2nd Grade HD, KosmicMath 3rd Grade HD and KosmicMath 4th Grade HD.
KosmicMath, already used in school systems, was designed with the educational and reporting needs of teachers and parents. Version 1.3 greatly improved game flow and player flexibility enabling users to directly access all modalities of the program, jumping between grade levels and challenging themselves to any one of over 25 levels of play. Advanced data synchronization between devices ensures seamless game play across all Apple IOS products, enabling users to continue their play on any device that has been registered with the KosmicMath Mission Control Center using the same parent's email address.
Registration with Mission Control also enables parents to receive email reports of player performance, promotions and scored drill / test completion results, making KosmicMath the parent and educator preferred tool for math drills and multiplication tables. KosmicMath tracks each player's performance individually and summarizes that data into a convenient report for mom, dad or educators to check up on their students progress.
Pricing and Availability: KosmicMathHD Family 1.3 is $9.99 USD (or equivalent amount in other currencies) and available worldwide exclusively through the App Store in the Education category.
Jess Silverstone, from Revolutionary Concepts created a paper version of the iPad. If you're dying to get an iPad an can't wait till the end of march, just get your scissors and build your own!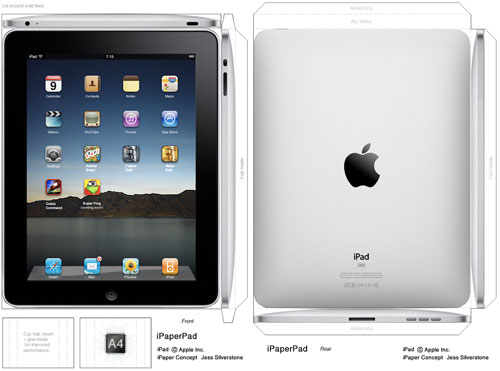 Apple announced the iPad tablet device, featuring a 9.7-inch, 1024 x 768 display and 16 GB, 32 GB, and 64 GB capacities. Carrying a custom 1 GHz "Apple A4" chip, the iPad weighs in at 1.5 pounds and is .5-inch thin. The iPad will be  priced at $499, $599, and $699 for models with Wi-Fi but without 3G. You'll have to add $130 if you want a 3G enabled model. Wi-Fi only models are scheduled to ship in 60 days and 3G-models in 90 days.
All iPad models have an accelerometer, compass, speakers, a microphone, and a 30-pin dock connector, but no USB or ethernet port. The iPad also offers, according to Apple, 10 hours of battery, with 1 month of standby battery life. Real-life battery tests still need to be done in order to confirm Apple figures. Models with 3G will be unlocked and will be able to use GSM micro SIMs (not the regular GSM SIMs).
The iPad will be able to use all the iPhone and iPod Touch Apps. However specific version will add extra features and be optimized for the device's 9.7-inch screen.