FIPLAB Ltd has launched their brand new interactive entertainment app, Talking Gremlin, which can now be downloaded for free for the iPhone, iPod touch and iPad. It is set to go head-to-head with Outfit 7's Talking Friends collection, most notably, Talking Tom Cat. By making use of the microphone and touch screen on their iDevices, users can interact with the Talking Gremlin by not only making him repeat words in his amazing little voice, but also through various touch gestures that will cause him to laugh, cry, growl and much more.
What Fip can do:
* Repeat what you say, but in his awesome voice
* Laugh when you rub and tickle him
* Wave at you
* Taunt you with his muscular strength
* Take any physical abuse you throw at him - but be easy, he is a tough little guy and WILL fight back
* Fall asleep right before your face if you ignore him
* Cry when he gets hurt
* Be forced to do something you may not like if you annoy him too much
Notes and Requirements:
iPod touch owners may have to put in earphones that have a microphone attached, otherwise the Gremlin won't be able to hear what you say. Animation smoothness will depend on the age of your device. 1st Gen device owners will get lower framerate.
Apple just updated its home page with the announcement of some iTunes related news that are coming tomorrow. You can read on the page : "Tomorrow is just another day. That you'll never forget".
Speculation has started around the web. Will it be related to streaming functionnalities or linked to cloud computing? Only a few hours to wait....
Digital Poke today today announced the release and immediate availability of 360 Web Browser 1.2 Update, 360 Web Browser for iPhone and iPod touch devices.
The update will bring these goodies to you:
* Retina Ready Graphics
* Persistent Full Screen (Remembers your Full Screen settings)
* Smart Search (Search from Address Bar)
* Hyper-scroll
* Customizable Three Finger Touch
* Arc Status Indicator (Toggle On / Off from Settings)
* Open Tabs in Background
* Ability to Mail Webpages
* Save Images on Links
* Address Bar can now execute Javascript on the fly
* Custom URL Support
* Added Search Operators support for advanced searching
* Revamped Slated Tab Theme
* Resolved HTML5 Videos playback
* Resolved Tap Status Bar to move to top
* Resolved Non-Frequent Crash which occurred while closing tabs before them getting loaded completely at startup
* Improved Browser Orientation / User-Agent
* Improved Links Tap Area
* Performance Upgrades
Device Requirements:
* iPhone and iPod touch
* Requires iOS 3.0 or later (iOS 4.0 Tested)
Pricing and Availability:
360 Web Browser 1.2 is priced at 0.99 (USD) and is available worldwide exclusively through the App Store in the Productivity category.
Apple today released iTunes 10.1. The new version of iTunes brings support for iOS 4.2 and Airplay.
The new functionalities in iTunes 10.1 are the following :
- Use AirPlay to instantly and wirelessly stream videos from iTunes to the all-new Apple TV.
- Sync with your iPhone, iPad, or iPod touch with iOS 4.2.
- Provides a number of important stability and performance improvements.
iTunes 10.1 is available for Mac OS X 10.5 and higher and Windows (32-bit and 64 bit). Since it is 10.5 only some PowerPC Macs are not supported any more.
Digiarty Software completely rebuilt their official website and now is open to the public. To celebrate this event, they are giving away WinX DVD Ripper for Mac (regularly $39.95) from Nov 11 to Nov 17, 2010. Both Mac and Windows users could get this all-round DVD backup software for free during this giveaway period. WinX DVD Ripper allows you to backup your DVD, rip and convert DVDs to AVI, MP4, MOV, FLV, iTunes, Apple iPhone, iPad, iPod, PSP, etc.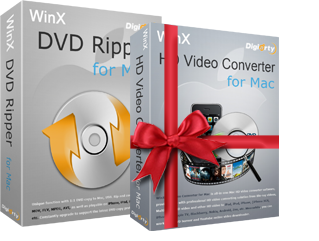 Highlights of WinX DVD Ripper for Mac:
* 1:1 Copy DVD to Hard Drive & USB Flash Driver within 5 min. This DVD ripper allows you to directly backup DVD movie to hard drive and USB as single MPEG-2 files with original video and 5.1 Channel AC3/DTS Dolby audio. The built in ultra-fast "DVD Stream Copy" method makes everything done within about 5 minutes!
* Constantly Update to Support any New Protected DVDs in the Market. It converts both homemade and commercial DVDs (that you own, if it is legal in your country) by removing all DVD encryption technologies, including DVD CSS, region code, RCE, Sony ArccOS, UOPs, Disney X-project DRM.
* Rip DVD to MP4, FLV, iTunes, iPhone, iPad. This DVD ripper empowers users to rip the full content of DVDs to all popular video formats, like, MP4, MOV, MPEG, FLV, AVI, iTunes, etc. what's more, it facilitates users to play DVD movie to iPhone, iPhone 4, iPhone 3GS, iPhone 3G, iPod, iPad, Apple TV, PSP, etc.
The Mac edition DVD ripper works on Mac OS X Tiger/Leopard/Snow Leopard. And the Windows edition DVD ripper is fully compatible with Windows XP, Vista and Windows 7 (32 & 64 bit).
WinX DVD Ripper Giveaway
DVD Ripper for Mac
DVD Ripper for Windows