Digiarty Software completely rebuilt their official website and now is open to the public. To celebrate this event, they are giving away WinX DVD Ripper for Mac (regularly $39.95) from Nov 11 to Nov 17, 2010. Both Mac and Windows users could get this all-round DVD backup software for free during this giveaway period. WinX DVD Ripper allows you to backup your DVD, rip and convert DVDs to AVI, MP4, MOV, FLV, iTunes, Apple iPhone, iPad, iPod, PSP, etc.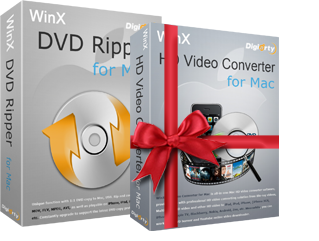 Highlights of WinX DVD Ripper for Mac:
* 1:1 Copy DVD to Hard Drive & USB Flash Driver within 5 min. This DVD ripper allows you to directly backup DVD movie to hard drive and USB as single MPEG-2 files with original video and 5.1 Channel AC3/DTS Dolby audio. The built in ultra-fast "DVD Stream Copy" method makes everything done within about 5 minutes!
* Constantly Update to Support any New Protected DVDs in the Market. It converts both homemade and commercial DVDs (that you own, if it is legal in your country) by removing all DVD encryption technologies, including DVD CSS, region code, RCE, Sony ArccOS, UOPs, Disney X-project DRM.
* Rip DVD to MP4, FLV, iTunes, iPhone, iPad. This DVD ripper empowers users to rip the full content of DVDs to all popular video formats, like, MP4, MOV, MPEG, FLV, AVI, iTunes, etc. what's more, it facilitates users to play DVD movie to iPhone, iPhone 4, iPhone 3GS, iPhone 3G, iPod, iPad, Apple TV, PSP, etc.
The Mac edition DVD ripper works on Mac OS X Tiger/Leopard/Snow Leopard. And the Windows edition DVD ripper is fully compatible with Windows XP, Vista and Windows 7 (32 & 64 bit).
WinX DVD Ripper Giveaway
DVD Ripper for Mac
DVD Ripper for Windows
Kengin Consulting Inc., a mobile development consulting firm, today announced the release of ShortShowers 1.0 for iPhone, iPad and iPod touch devices. ShortShowers encourages its users to conserve both water and energy by taking shorter showers whenever possible. ShortShowers allows users to set a timer for their showers that can be adjusted to allow users to gradually reduce water consumption over time.
Another key app feature is the water usage calculator. The calculator enables users to determine their shower water consumption by various frequencies such as week, month, year, etc. to help users see the direct impact on water conservation. The application also provides users with helpful tips on how to shorten their shower, plus benefits to yourself and the environment for doing so.
Device Requirements:
* iPhone, iPod touch, and iPad
* Requires iOS 3.0 or later (iOS 4.0 Tested)
* 1.9 MB
Pricing and Availability:
ShortShowers 1.0 is only $0.99 USD (or equivalent amount in other currencies) and available worldwide exclusively through the App Store in the Healthcare & Fitness category.
FX Photo Studio 3.0 launched today on the App Store. The enhanced version of FX Photo Studio further simplifies editing and sharing of pictures. It features possibilities to adjust all the effects; mix them and save consequences of effects into presets for a one tap application on other images. Basic (traditional) editing tools - crop, rotating, and gamma adjustment - are also available. Creations can be saved to photo library or shared via email and popular social networks.
Key Features Of Updated Fx Photo Studio Include:
* 171 photo effects and filters (31 new effects, comparing to the version 2.6.0)
* New enhanced User Interface
* User friendly customization options: one tap control for adjusting all of the effects
* Effect mixing (any number of effects)
* Presets feature
* Easy image sharing between iDevice and computer with 'Documents' feature
* Multiple undo and redo
* Possibility to choose resolution of images to modify, up to 2592X2592 pixels (for iPhone 4)
* Choice of preview quality - low, medium, high
* Image resizing option when uploading images to online services
* Built-in sharing via Flickr, Facebook, Twitter or E-mail
* Full iPhone and iPod touch compatibility (all versions)
FX Photo Studio 3.0 features three new categories: Groovy Lo-Fi (with effects simulating analog photos from 70s, 80s, and 90s), Grunge (such effects as Grunge Rays, Stencil Graffiti, etc.), SFX (such effects as X-ray and Night Vision Cam); old categories have also been updated with new effects. Three more categories - Color Lenses, Color Strokes, and Hollywood FX - are available as in-aps and include 33 more effects, raising a total amount to 204 high quality effects and filters.
Device Requirements:
* iPhone, iPod touch, and iPad
* Requires iOS 3.0 or later (iOS 4.0 Tested)
* 34.6 MB
Pricing and Availability:
FX Photo Studio 3.0 is $2.99 USD (or equivalent amount in other currencies) and available worldwide exclusively through the App Store in the Photography category. Launching FX Photo Studio 3.0 for iPhone and iPod touch, MacPhun LLC previews launch of the update for FX Photo Studio HD for iPad. The latter is expected in the beginning of winter, 2010.
Food for Benjamin today introduced No More Socks 1.0 for iOS, their versatile gift-planning app that features the ability to save the results of comparison shopping. Designed to organize gift-giving all year round, the app allows the user to easily create detailed lists of gift recipients, event dates, gift ideas, online retailers, traditional stores, specific gift items with prices, and the gifts remaining to be purchased within a chosen period of time. All lists and bookmarks may be exported from the iOS device to a computer for more convenient online ordering.
On launch, the splash page displays stick-up notes of various colors, posted on a refrigerator door. Each note accesses a function, including Events, People, Shopping, Ideas Pad, and Help. The app differentiates between two types of event: personal events for occasions that involve a single individual (e.g. birthday), and group events where more than one person must be considered (e.g. Christmas). The user can set a budget for each member of a group event, and the total budget displayed for the event is the sum of all the individual budgets. The app keeps track of items purchased and the amount of the total budget used. Christmas, Easter, Thanksgiving and birthdays are available as presets to make event creation quick, or the name and date of the event may be entered manually.
Touch-activating the People function of No More Socks permits the user to pick a name or names from their main iOS contact list, or create a new entry in the app. Once created, each person's entry may include their full name, birthdate, their photo, gift ideas for that person, past gifts given and any events that have been entered using the Events function. There is also a toggle switch for sending a birthday push reminder (iOS 4 and later required). Gift Ideas and Past Gifts can be accessed from the Gifts section of the person's page. This allows the user to keep a running list of ideas for each person and to keep a reference of gifts bought in the past. When adding a gift idea the user may add an item already listed in the Ideas Pad or enter a new idea from scratch.
Feature Highlights:
* Create Events, add People, add Gifts, go Shopping - all from within the app
* Quickly enter a note or a photo at any time with the Ideas Pad
* Keep a list of ideas for each person all year round
* Search the web for the ideal gift
* Create bookmarks to retailers' websites who offer gift items of interest
* Get everything needed from a store in one visit with Smart Shopping Lists
* Export Shopping Lists, including bookmarks, to any computer via email
* Keep track of all gifts purchased in previous years
* Get reminders about friends' birthdays
* Import contacts from any address book
The Ideas Pad serves as a notepad for any gift ideas the user may have that aren't related to a particular person or event, or when they are short of time and need to make a quick note they intend to file later. It encourages quick-entry by asking only for a name and optional photo, but other information can be added by tapping the More Details button.
When adding gifts to the app the user may enter the idea, a budget, a picture, notes, and possible sources for purchasing the item. Touching the Add Retailer button brings up a comprehensive, scrollable list of online and offline retailers, any of which may be selected to begin shopping. The app includes a built-in directory of popular merchants, and performs a Google search to find additional merchants. The app automatically adds new retailers for quick access next time. For shoppers preferring the convenience of a large screen and keyboard when purchasing, all retailer bookmarks from No More Socks may be emailed to any computer, complete with notes and prices.
Selecting the Shopping function from the main menu brings up the shopping lists: organized lists of the retailer bookmarks that the user has added to their gift ideas. Four options are available: All Shopping, Online Shopping, Offline Shopping, and Past Purchases. Selecting All Shopping displays a list of all items yet to be purchased for events within a user-defined timeframe, which is easily set via a simple slider. A button allows the user to show and hide their secondary choices. The Shopping List shows a red check for gifts remaining to be purchased and a green check for items completed. The user toggles between the two with a quick tap. Shopping Lists are grouped by retailer so the user can see what needs buying from each. All related information such as notes, budget, retailers, price and the merchant's web page is available within one or two taps. If desired, the user may complete the entire online transaction from within the app, and check the item off the list. As above, all information can be emailed to any computer.
Device Requirements:
* iPhone, iPad, or iPod touch
* iOS 3.1.3 or later
* 6.7 MB
Pricing and Availability:
No More Socks 1.0 is available at the special introductory price of $0.99 (USD) through the App Store in the Productivity category.
Independent developer Richard Madison today announced the release of Freedom Lite 1.2, the free version of his popular app discovery application for iPhone, iPad and iPod touch.
Every day, hundreds of apps from the iTunes App Store go on sale. Popular apps, high priced apps, even #1 rated apps. Developers make their Apps Free for a short period of time to boost their popularity, ranking and reviews. In some cases for as little as 5 minutes. Freedom Lite discovers these Apps.
Feature Highlights:
* Freedom Lite scours the iTunes Appstore 24 hours a day, 7 days a week
* Never miss another sale. 247. Thousands of Apps per month
* You choose how to find apps
It offers 6 different ways to view freed apps:
* Browse by category. Just like the Appstore
* View "New"apps - the most recently freed
* View "What's Hot" - the most download by The Freedom App users
* View "Release Date" - the oldest apps in the Appstore
* View "Top Rank" - highest ranking Apps
* View "Top Price" - the most expensive apps that are now free
* View "Top Missed" - A list of Apps that were recently Free, but now cost
Device Requirements:
* iPhone, iPod touch, and iPad
* Requires iOS 3.1 or later (iOS 4.0 Tested)
* 4.2 MB
Pricing and Availability:
Freedom Lite 1.2 is free and available worldwide exclusively through the App Store in the Productivity category.