Engadget just reported that there will indeed be an Apple event next tuesday. It will sure be time to introduce the new iPod nano. We would be pretty disappointed if the event was only about that. Did you say iPod Touch with GSP? Did you say Apple Tablet?

Image Courtesy of Engadget.
Si vous recherchez un dock avec fonction haut parleur pour iPod, à un prix défiant toute concurrence, le iSing de brando semble fait pour vous. A 25 dollars, difficile de trouver moins cher. Il fonctionne avec les nano et les iPod 5G. L'alimentation s'effectue via le cable USB ou avec quatre batteries AAA. Quant au son, nous sommes en présence d'enceintes 2*2W. 
Pour plus d'information, consultez le site de Brando.
Belkin vient d'annoncer le SportCommand pour iPod. Cet accessoire permet de commander l'iPod sans fil et de garder ce dernier protégé. Ideal pour les snowborders ou les sportifs de l'extrême, cette télécommande sera lancée en novembre aux Etats-Unis et peu après dans le reste du monde.
Pour plus d'information, consultez le site de Belkin.
Si vous attendiez la disponibilité de housses et étuis pour les nouveaux nanos, vos désirs vont être satisfaits par Speck qui annonce une floppée de nouveaux produits. 
Tout d'abord, une housse "toughskin" pour permettre au nano de supporter les chocs. Cette housse est disponible dans les cinq nouvelles couleurs du nano (argent, vert, noir, bleu et rose) pour 29,95 dollars. 
Pour les sportifs, la housse Canvas Sport, pour 29,90 dollars. 
Toujours pour les sportifs, mais qui bougent un peu plus, le brassard et la housse Active Sport, vendus eux aussi 29,95 dollars 
Enfin, pour les femmes ou les hommes d'affaires, la housse en cuir, dite "nano executive and lady", pour un prix de 34,95 dollars. 
Pour plus d'information, consultez le site de Speck.
Logitec et Teac viennent d'annoncerdes haut-parleurs pour iPod sous le doux nom de LDS-Ri700. Compatibles iPod 5G et iPod nano, le système booste les basses et dispose d'un tuner FM ainsi que d'une télécommande. Il vous en coûtera 19800¥ (environ 130 €). Attention, la bête pèse près de deux kilos!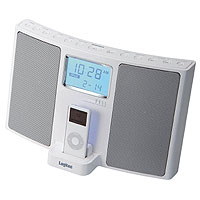 Pour plus d'information, consultez le site (en japonais) de Logitec.